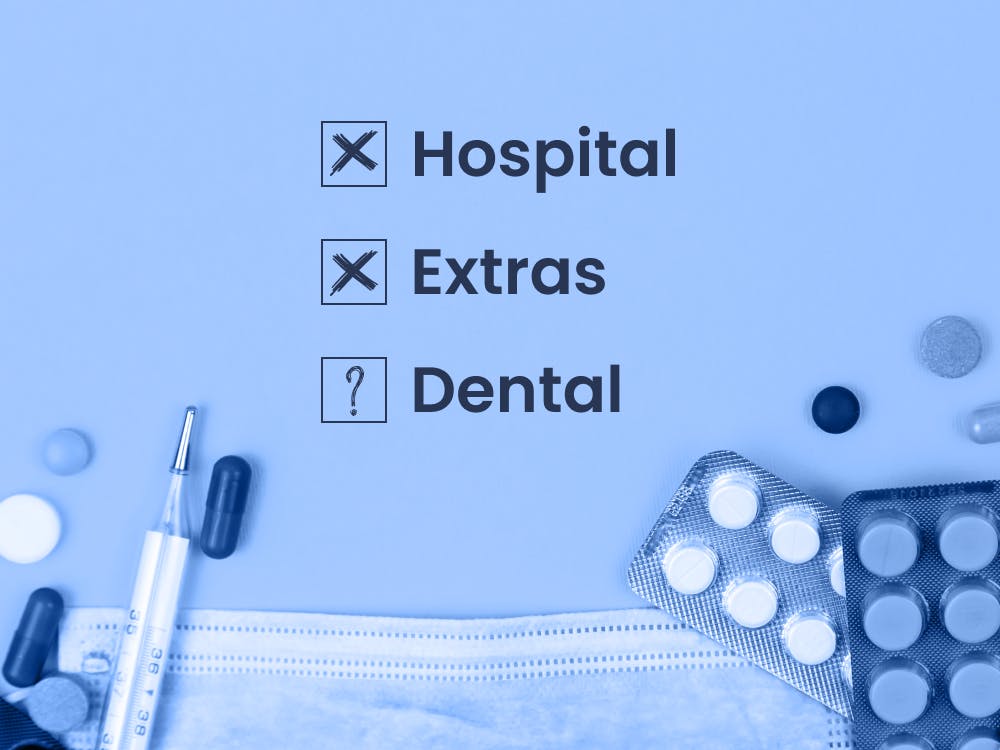 Private health insurance: what is and isn't covered in dental
By 3 min read
We Australians are lucky when it comes to publicly funded healthcare.
But when it comes to dental care, most of us are on our own, with Medicare only providing essential services to a few select groups.
As a result, many people turn to private health insurance for help, with more than half of Australians covered by private health insurance.
But what exactly is and isn't covered when it comes to dental? We've researched the finer details to help you feel more informed.
Private Health 101
Health insurance companies generally offer two tiers of service: 'hospital' and 'extras'.
'Hospital' cover helps if you're seen at a private hospital, including day surgeries or outpatient services.
Everything else not covered by Medicare is generally lumped into 'extras' - which is where most dental services fall.
In Australia, even the most bare bones private health policies include a dental component. For example, HCF Health Insurance and Frank Health Insurance offer some of the cheapest 'extras' policies, costing around $13 per month.
Just because a policy includes dental, doesn't mean you're covered for all dental services.
Just because a policy includes dental, doesn't mean you're covered for all dental services. And for the ones you are covered for, there's little chance of finding a policy that covers 100% of the cost, as described below.
General vs Major
With dental, private health insurance categorises treatments as either 'general' or 'major'.
'General' dental usually refers to routine dentist treatments, such as: check-ups, cleaning, fillings, x-rays, fluoride treatments, and so on.
'Major' dental refers to the more complex and more costly treatments, such as: crowns, dentures, bridgework, veneers, treatment for gum disease etc.
What does this actually mean in dollar figures?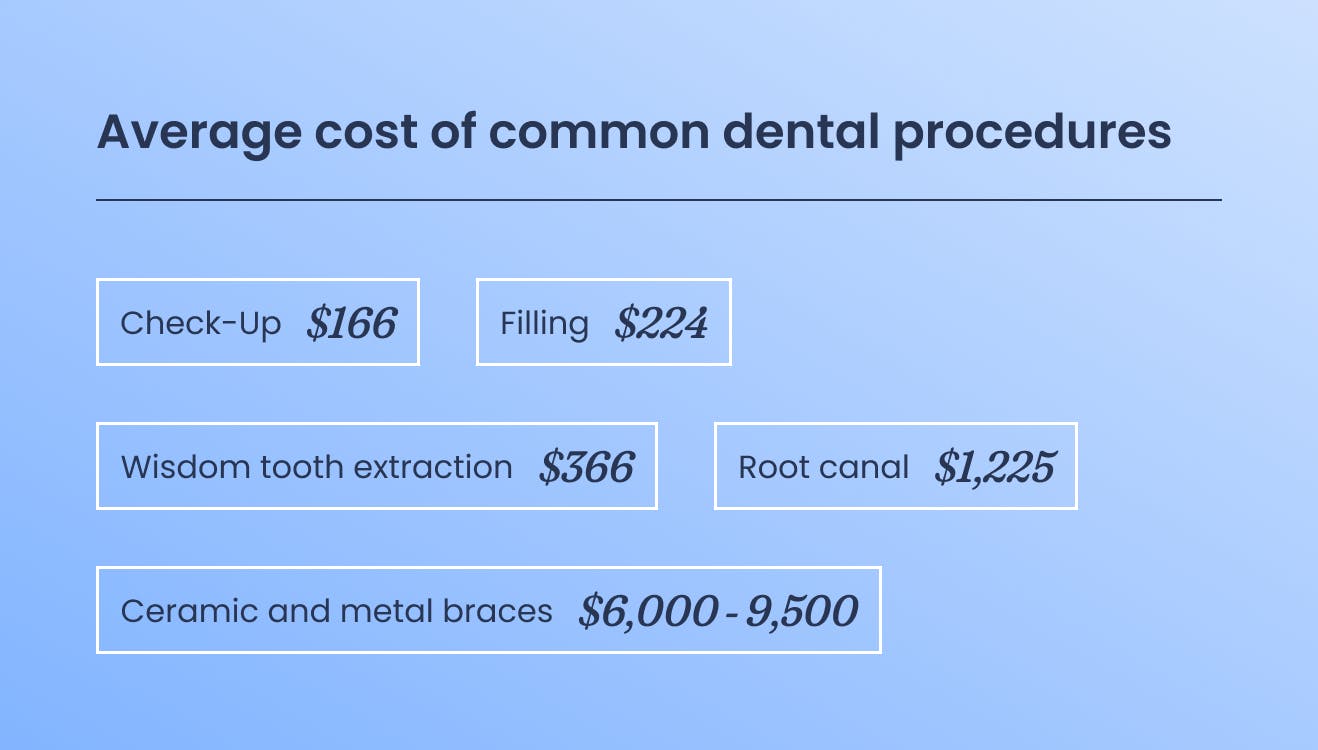 You guessed it! The more affordable options only cover 'general' dental. You'll pay more per month for policies that cover 'major' dental.
We've listed the average cost of common dental procedures below, obtained from figures of a 2019 survey (in Aussie dollars):
Check up: $166
Filling: $224
Wisdom tooth extraction : $366
Root canal: $1,225
Ceramic and metal braces: $6,000 - 9,500
So, even with private health, most dental patients find themselves out of pocket to some degree.
For many of us, this out of pocket expense can be financially debilitating.
Struggling to make sense of this? Let us give you some real word examples.
What does this look like in the real world?
Here are some typical scenarios:
'Tim' has basic 'extras' policy, which includes 'general' dental.
Tim goes to a dentist for a check-up as a preventative measure. The dentist gives his teeth a clean, removes some plaque, and notices he needs a small filling. When he pays his bill of approximately $390, the 'extras' policy helps, but he's still out of pocket $89.
'Samara' holds the same 'extras' policy as Tim, and notices an ache in her mouth.
She books an appointment at the same clinic, but finds out she needs a crown for two of her teeth. The cost? $1560 per tooth (ouch). When Samara goes to pay, she's told her policy doesn't cover this. She's out of pocket $3120, on top of the monthly fee she's paying for private health. As if visiting the dentist isn't painful enough!
So what's the bottom line?
We encourage you to do your own research, to find out what suits your individual circumstances.
Many people join private health for dental alone. It can be time-consuming to trawl through comparison tables and product disclosure statements, but your Pearlii whites are worth it.
Prevention is key for maintaining a healthy smile.
We know that dental treatments could be covered by Medicare, but while our government doesn't yet include it, private health insurance can be handy to supplement costs.
And as we always say here at Pearlii: prevention is key for maintaining a healthy smile, and to help keep the costs of future medical treatments to a minimum. Our oral care products are available to help.