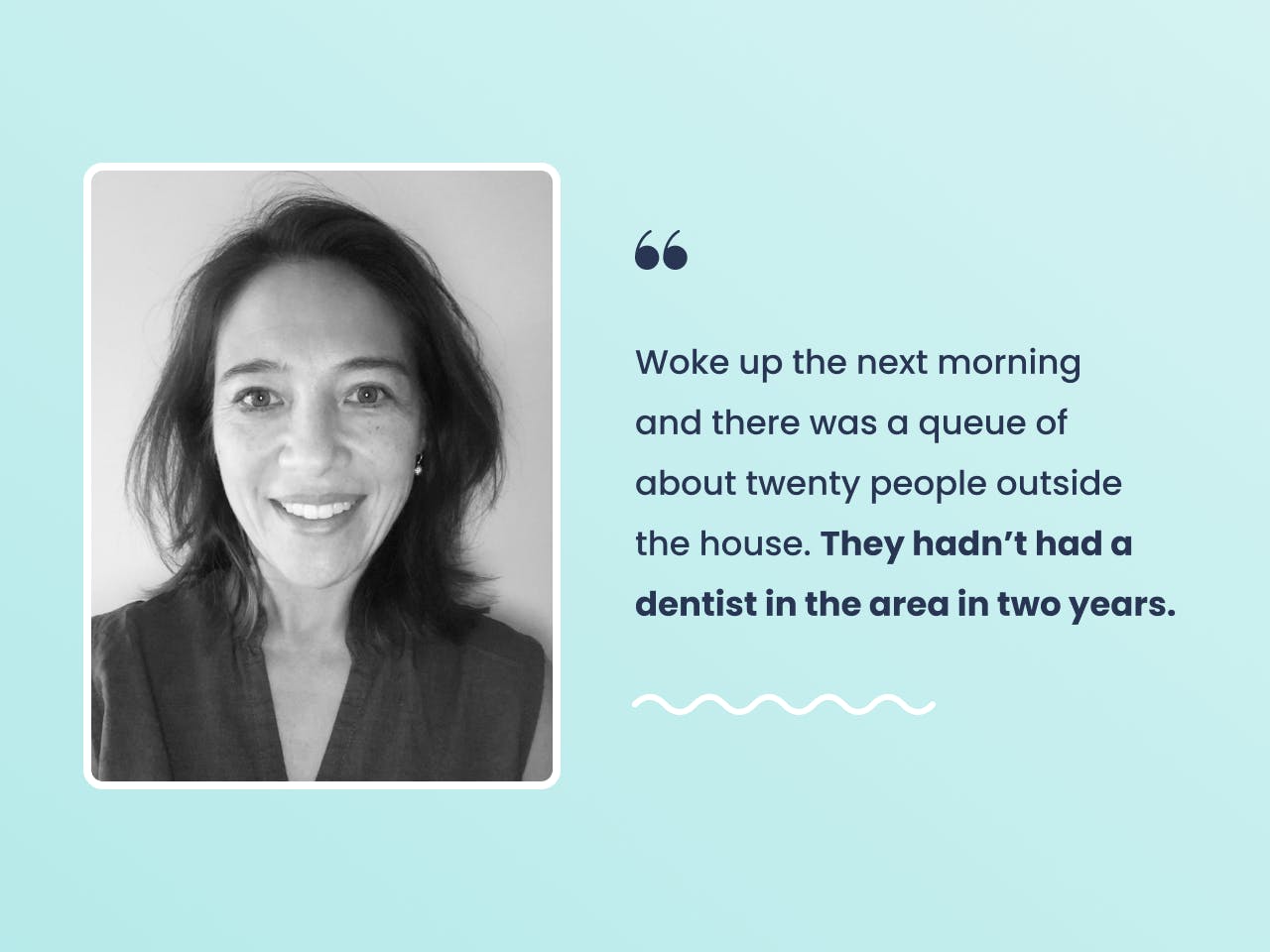 Introducing the absolutely incredible Dr Som-Ling Leung!
By 4 min read
Dr Leung is no ordinary dentist!
Her passion for volunteer dental work was inspired by her parents' experiences working as a doctor and nurse in Papua New Guinea. In 2012, an opportunity presented itself when a doctor working next door to her practice approached her. His wife was a Solomon Islander, and her father, the chief of an area, wanted to build a dental clinic with the help of Dr Leung. Without hesitation, Dr Leung packed her bags and headed to the Solomon Islands to provide dental care to remote communities.
Upon arrival, the situation was a bit overwhelming
She flew to Honiara and then to the province, where she was met with a local government official and taken by boat to the area. The boat ride was rough.
The locals had not seen a dentist in over two years. Her anaesthetic supplies ran out by lunchtime on her first day, as people had heard overnight that there was a dentist there, creating a queue of about 20 people outside the house. Despite these challenges, Dr Leung was determined to help, and since then, she has been working tirelessly with the local community to improve oral health.
It's been more than 10 years since Dr Leung's journey began in the Solomon Islands
The impact she has made is truly meaningful. She has built a dental clinic, trained locals to help with education, and worked with schools to educate the community on oral hygiene. She also brought other volunteer dentists to the islands and connected with the local community.
One of the things Dr Leung noticed during her work in the Solomon Islands, is that the younger people in the rural area didn't have much decay, whereas the older folks had some infections and gum disease. When she was working in the capital, she saw a couple of 13-year-olds who needed about 10 or 12 teeth extracted. Unfortunately, they were not fixable, even if they had been in Australia and had all the technology available.
During her time in the capital, Dr Leung also noticed that there were no toothbrushes available for the kids to buy, and that they had no education around how sugar causes decay. This further highlights the importance of not only providing dental care to remote communities, but also education on oral hygiene and preventative measures to maintain healthy teeth and gums.
Education was also a priority for Dr Leung
Dr Leung has also made it a priority to work closely with the schools in the area, providing educational materials and workshops on oral hygiene, and the importance of regular dental check-ups. She also made sure to make toothbrushes and toothpaste available to the community, and to provide education on the importance of reducing sugar intake to prevent decay.
Dr Leung's story is a powerful reminder of the impact one person can make. Her selfless acts of kindness have changed the lives of many in the community. Her work in the Solomon Islands is a true example of making a difference in the world. She not only provides dental care, but also educates and empowers the community to take control of their oral health. Her dedication and commitment to the people of the Solomon Islands is truly admirable and inspiring.
We should all strive to make a difference in the world!
Dr Leung's passion and dedication to helping others is truly admirable and inspiring. She is truly an inspiration, and a shining example of what one person can accomplish when they are committed to making a positive impact in the world.
We at Pearlii are proud to be working towards the goal of providing dental care to remote communities, just like Dr Leung
Through our charitable arm, the Pearlii Foundation, we will be donating 50% of profits from our eco-friendly oral care collection towards building dental trucks to provide oral care to remote communities. By purchasing our products, you can support this cause and help make a real difference in the world, just like Dr. Leung.
Together, we can improve oral health and empower communities to take control of their own health. So, join us in this journey of making a difference in the world, by purchasing our eco-friendly oral care products.
Watch our full interview with Dr Som-Ling Leung: